For the NeW Mamas in this beautiful world ~ This is a collection of notes and recipes. I have made them all, many times...and witnessed the success in increasing breast milk production. Happy boobies, happy babies. Don't forget to cacao butter your everything!
Love this, Love you.
"The luminous woman remains sensually embodied throughout her life enjoying the sights, smells, sounds, tastes and sensations of life on earth. The energy of eternal spring and the bounty of summer is experienced and expressed in all her creative endeavors, whether they be in the kitchen, garden, art, lovemaking, or in a passionate commitment to a chosen life work. The luminous woman inhabits, enjoys, and cares for her body with appreciation all the days of her life. She relinquishes her attachment to the body of her youth as the years pass and grows more deeply beautiful with age because she has cultivated her depths and continues to experience the greening power of the soul." Chelsea Wakefield
Mama's Milky Tea
1 part red raspberry leaf (Rubus ideaeus) 1⁄2 part fennel (Foeniculum vulgare)
1⁄2 part anise (Pimpinella anisum) (increases milk flow)
1⁄4 part caraway (Carum carvi) (increases milk flow) - take away if this is too savory of a taste, or put in a salad dressing instead
Crush seeds and mix with red raspberry leaf. Prepare as an infusion.
**Following a pump-after feed 3xs/day and taking advantage of night pumping when Prolactin hormone is highest in combination with cookies, moringa, golden milk, hydration and milk teas - a mama can double, even triple her milk production. For example, my close friend went from 45ml in the first week to 6 oz per feed (for twins) at 2 weeks!!!
This can reduce or eliminate formula-feeding and mega increase infant nutrition and immunity.
Begin pro-biotics in third trimester and take all through breast-feeding - new research is coming out that breastmilk enhanced with pro-biotics is epic for all whom are involved.
MORINGA can really boost nutrition and energy levels as well - and it tastes great on everything: savory or sweet, on top of fruit salads, on top of fried eggs, in smoothies, in lemonade…endless
Other herbs that have consistently shown to be galactogouges:
Goats Rue
Blessed Thistle
Fenugreek
Yep its a lot of information, but keep up with it and stick to it, herbs really do work! There are so many levels of important factors here, like:
Feeding on the breast shapes the airways and the palate. The babies mouth shape is not the set shape - it is shaped by its environment - the constant pressure of the nipple shapes the roof of mouth and widens airways - mechanics of suction
additional pumping is additional stimuli - pump following a feeding deepens the stimuli and can increase volume production
Your body is producing milk for what the babies need TODAY - give it all to them
Mama's Breastmilk Tea
2 parts nettle (Urtica dioica). Nettles are super stinging stars! They strengthen & support the whole body, are used as a spring tonic. Rich in chlorophyll, iron and calcium, nettles increase breastmilk and energy and are also used to cleanse the kidneys, lymphs, and blood.
2 parts red raspberry leaf (Rubus ideaeus). Rich in calcium, magnesium and iron.
2 parts moringa leaf - powerhouse of goodness
1 part fennel seed (Foeniculum vulgare). Fennel seed increases the flow of milk.
1⁄4 part fenugreek (Trigonella foenum‐graecum). "Fenugreek is an adjunct milk increaser. The chemical components of fenugreek seed include iron, vitamin A, vitamin B1, vitamin C, phosphates, flavonoids, saponins, trigonelline and other alkaloids. This wonderful seed is also high in fiber and protein." (Taken from AHG notes
Crush the fenugreek and fennel seeds. Mix ingredients and add 2 teaspoons to a cup of gently simmering water. Simmer for 10 minutes because of the leaf matter that is present.
Dash of ginger and licorice if you're feeling it.
LACTATION STATION!
SuPa HeaLTHy Da KiNe: NO BAKE VeGaN Lactation CookieZ
Ingredients:
3 Large, ripe mashed bananas OR equivalent size baked sweet potato or pumpkin for a bit more savory
1 -2 tbsp moringa powder
1 tsp vanilla extract
4 - 5oz coconut oil
3 tbsp of peanut butter
4 - 5 tbsp local honey
Handful of pumpkin seeds (or 2)
4 tbsp ground flax seeds
3 cups of raw organic oats
⅔ cup of almond flour
3 tbsp brewers yeast
½ tsp sea salt
½ tsp cinnamon
1 tsp baking soda
Directions:
Preheat your oven to 350°F or 180 Celsius
Mix the mashed bananas with the vanilla extract, honey, warmed coconut oil and peanut butter (can substitute almond butter or walnut butter — up to you)
In another bowl mix together the dry ingredients and moringa - other powdered herbs can be mixed in here… like Stir the dry ingredients into the wet ingredients.
Form balls of dough. Place onto an oiled baking sheet — you can flatten a bit with a spatula.
Bake for 11-13 minutes… they are soft, if you like chewier you can flip them over and bake for another 5 minutes.
*There's no egg or dairy in here, so you can leave them raw and add a bit more oats and roll them into balls then roll them in anything you want (bee pollen, cacao powder, cacao nibs, shredded coconut!) yummmmmm. - keep em in the fridge and eat like cookie dough.
Lactation COoOoKieZ
Ingredients
1 cup grass-fed butter or Ghee - soft
1 cup coconut sugar
1/2 cup brown sugar OR 2 tablespoons local honey OR 2 tablespoons blackstrap molasses
1 1/2 teaspoons vanilla extract
2 large (free-range, please!) eggs
4 tablespoons brewers yeast (I've tried up to 6 tablespoons, no prob)
3 tablespoons flax seed meal (I've gone up to 4 tablespoons)
2 tablespoons water
1 cup almond flour
1 cup rice or cassava flour
1 teaspoon baking soda
1 teaspoon sea salt
2 cups rolled oats
1 1/2 cups unsweetened carob chips
3 tbsp grass-fed collagen or odorless marine collagen
2 tbsp Cordyceps mushroom powder
dash of cinnamon
Instructions
Preheat oven to 350°F
In a small bowl, mix together water and flax meal.. let it sit aside.
In a large bowl, beat/mash together butter, sugar, brown sugar/honey, vanilla and eggs. Add flax meal & water mixture, collagen, and brewers yeast.
Add flours, baking soda and salt to butter mixture and stir until combined. Stir in raw whole oats and carob chips.
Place on buttered cookie pan and bake at 350°F for 11-12 minutes, or until the melting carob chips and golden surface are too irresistible to wait any longer.
Postpartum Pick me Up Bars! —
Gluten-Free because inflammation is the last thing you need!
Ingredients
3 tablespoons ground flax seed
4 tablespoons water
1 1/2 cup coconut oil
1 cup organic brown or palm sugar
2 eggs - free-range please!
1/3 cup blackstrap molasses
1 teaspoon vanilla extract
2 1/4 cups gluten-free flour (cassava, almond, rice)
1/2 cup unsweetened coconut shreds
1/2 cup hemp hearts or 1/3 cup chia seeds
4 tablespoons gluten-free brewers yeast
1 teaspoon salt
1 teaspoon baking soda
2 cups raw steel-cut oats - can make grain-free by using cassava flour and/or almond flour as substitute for this quantity
1 cup dark carob chips
1-2 tbsp matcha powder
1-2 tbsp nettle or moringa or suma powder
Dash of cinnamon?
Can add raisins or goji if ya feeling it.
Directions
Preheat the oven to 350F.
Combine the flax seeds and water in a small bowl and set aside.
Melt the coconut oil and mix in and sugars - whip and whisk - can beat until fluffy if you have a mixer.
Add the soaked flax seeds, eggs, molasses, and vanilla extract - mix until blended.
Whisk together the dries: flours, seeds, brewer's yeast, salt, & baking soda
Add the dry ingredients into the wet ingredients bowl slowly. Mix thoroughly, with love.
Add the oats and chocolate chips in on a slow speed. Mix until just combined.
Oil a 10″ x 15″ inch ishhh baking dish — Drop the cookie dough into the dish and smear all around until it looks even.
Bake the bars for about 40 minutes or until the bottom of the bars are deep golden brown and the middle of the pan tests positive for clean fork.
Remove the dish from the oven and allow the bars to cool for one hour before slicing them into bars.
Top with yogurt or drink with flax milk, these can be on-the-go, frozen for later, or indulged while warm with green tea ice cream on top for breakfast, or dinner…before the nightshift of pumping milk..anything you want mama!
This one below is fabulous too!
https://theprogressiveparent.org/2012/04/06/boobfood-lactation-cookies/
BOOBFOOD!
You will need: (in order of use, according to which bowl it goes into- I'm strange like that. If I was more on top of it, I would have taken more pictures. But I'm not. So there.)
one small (ramekin-size) bowl, one medium & one large mixing bowl
to preheat the oven to 350 degrees
Combine in small bowl & set aside to be added into wet mixture:
4 tablespoons water
2 tablespoons milled flaxseed (or flaxseed meal)
Beat together, one at a time into large bowl:
1 cup (two sticks) of butter (If you need dietary justification for this, click here and read where it suggests breastfeeding mothers, "get regular and substantial amounts of butter." Seriously.)
1 cup of (packed) brown sugar
2 eggs (I use cage & antibiotic free)
1 teaspoon vanilla
2 tablespoons of molasses (or to taste, if that's not you're thing)
the flax & water mixture you just made
Stir together dry ingredients one at a time in medium bowl :
2 cups flour (I use half whole wheat, half pastry flour)
4 tablespoons (this is the good stuff, ladies!) of Brewer's Yeast
1 teaspoon baking soda
1 teaspoon of sea salt
1 teaspoon (l5 shakes-ish) of cinnamon.
Then combine everything into the large bowl and stir in:
3 cups rolled (thick cut) oats
1 cup (or up to a whole package if you'e not adding nuts) of semisweet chocolate chips (if you need a dark chocolate disclaimer, click here
1 cup of chopped macadamia nuts, cashews or almonds or PEANUT BUTTER~~
I used a soup spoon and scooped balls (Wads, really. Let's not be pretentious.) about 3 tablespoons big into onto wax paper. (I use wax or parchment paper because I'm lazy- you can use more butter or whatever you'd like to line the bottom of the pan to prevent sticking)
Bake for 8-10 minutes, until the edges are golden brown and let them cool before moving so they don't get crumbly.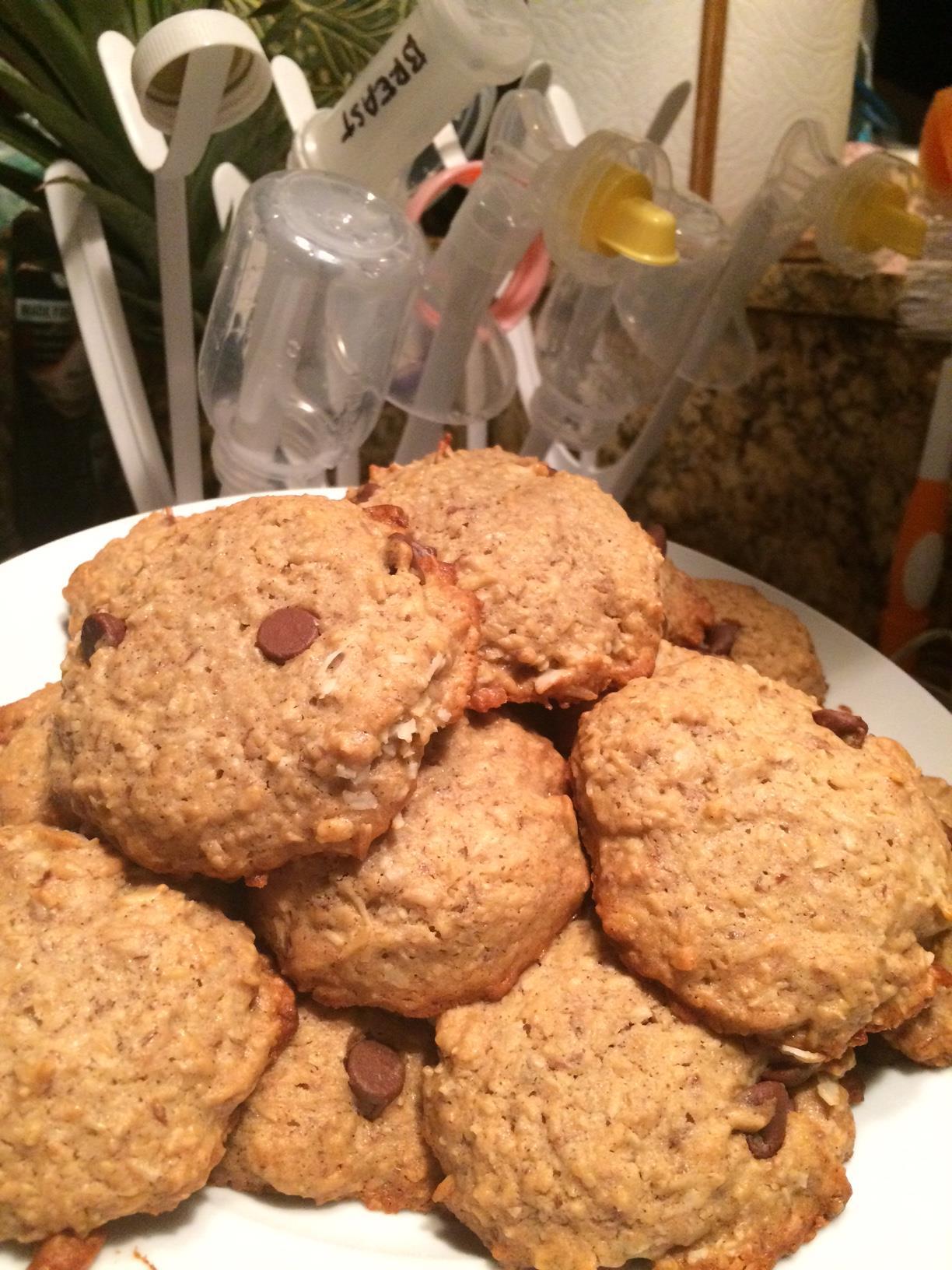 (more) Productive Pumping is just 3 cookies away.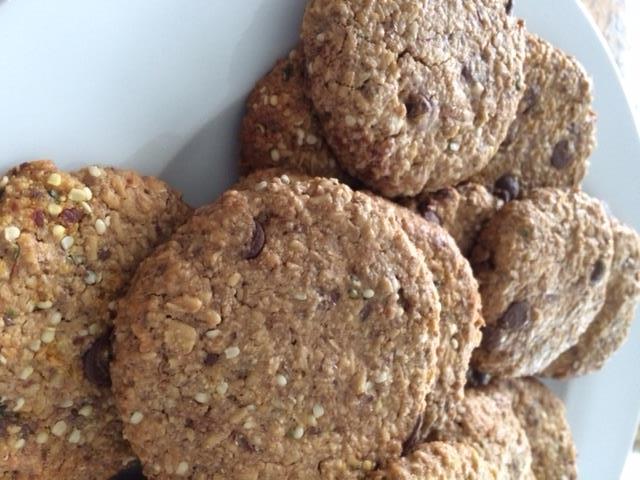 matcha and moringa moring cookies - No BaKe